Endymion Announces Entertainment for its Mardi Gras Parade in 2023
The Krewe of Endymion announces the entertainment for Mardi Gras's Main Event, The Krewe of Endymion Parade and Extravaganza. The Super Krewe will roll down the streets of New Orleans and into the Ernest N. Morial Convention Center for the mega-party on Saturday, February 18, 2023. Three-time GRAMMY Award winner Darius Rucker and FOREIGNER will headline the Extravaganza along with Party on the Moon, Groovy 7, and The Wiseguys, according to Ed Muniz, the longest running captain in Mardi Gras.
Rucker first achieved multi-Platinum status in the music industry as lead singer and rhythm guitarist of the GRAMMY Award-winning band Hootie & the Blowfish, who have sold more than 25 million albums worldwide including their Double Diamond-certified (21x Platinum) debut Cracked Rear View, which remains among the Top 10 best-selling studio albums of all time. Since releasing his first Country album in 2008, Rucker has earned a whole new legion of fans with four No. 1 albums on the Billboard Country chart plus 10 No. 1 singles at Country radio and 11 Gold, Platinum, or multi-Platinum certified hits. Rucker was inducted as a Grand Ole Opry member in 2012 and, in 2014, he won his third career GRAMMY Award for Best Solo Country Performance with his 11x Platinum version of Old Crow Medicine Show's "Wagon Wheel," which stands as one of the top five best-selling Country songs of all time.
With 10 multi-Platinum albums, FOREIGNER is universally hailed as one of the most popular rock acts in the world with a formidable musical arsenal that continues to propel sold-out tours and album sales, now exceeding 80 million.
FOREIGNER is responsible for some of rock and roll's most enduring anthems including "Juke Box Hero," "Cold as Ice," "Hot Blooded," "Waiting for a Girl Like You," "Feels Like the First Time," "Urgent," "Head Games," "Say You Will," "Dirty White Boy," "Long, Long Way from Home" and the worldwide #1 hit, "I Want to Know What Love Is." Audio and video streams of FOREIGNER's hits now top over 15 million per week.
FOREIGNER's founder is Songwriters Hall of Fame member and visionary maestro, Mick Jones. His stylistic songwriting, indelible guitar hooks and multi-layered talents continue to escalate the band to new horizons.
The theme of the 2023 Parade is Endymion Salutes the Poets. Signature floats include Papa Joe's SS Endymion, Club Endymion, The ETV Float, which beams live crowd shots on a gigantic 20' x 9' LED screen, and the largest float in Mardi Gras, at over 300 feet long, is the Pontchartrain Beach, "Then and Now" carrying 270 riders.
For more information and to purchase tickets to the Endymion Extravaganza call the Endymion office at (504) 736-0160.
Saturday February 18th @ 4:15
We begin at 4:15 on Orleans Avenue with Samedi Gras which may well be the world's largest block party! More than 40,000 Mid-City residents gather with food, beverages, friends and family to welcome us and help kick off Mardi Gras' Main Event!
Endymion rolls on the Mid City route and features several signature floats.  Our newest float, Club Endymion is a tribute to our home – the Mercedes Benz Superdome. The ETV float beams live crowd shots on a gigantic 20' x 9' LED screen. And Pontchartrain Beach, Then and Now is the largest float in Mardi Gras at over 300 feet long with over 250 riders and nine sections!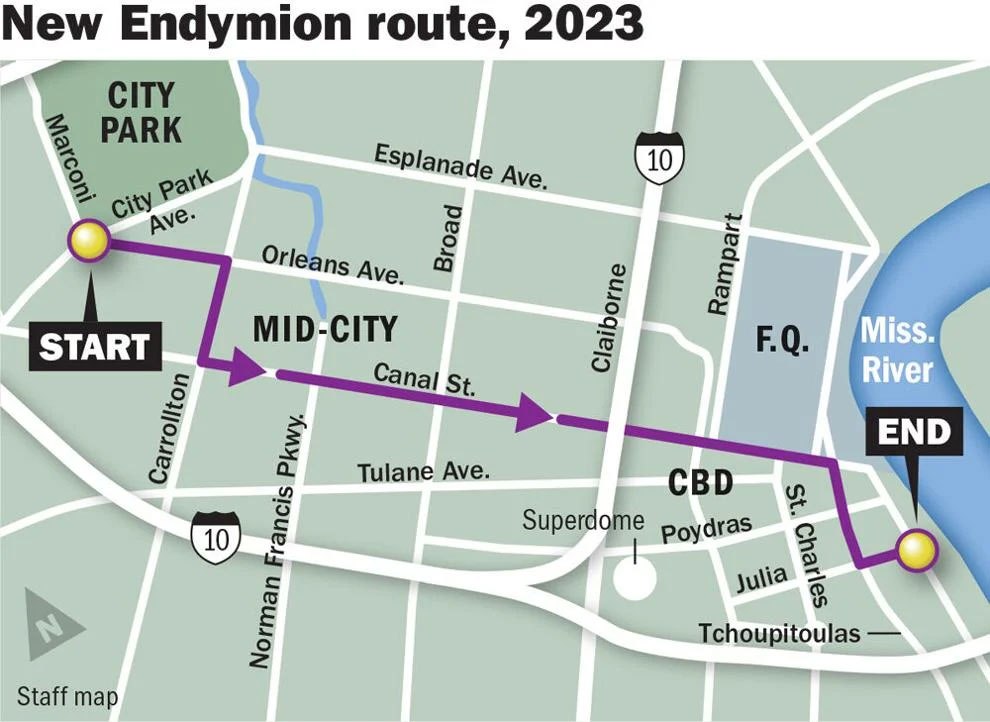 Map courtesy of the New Orleans Advocate/Times Picayune.
Endymion is Mardi Gras' Main Event!
Endymion is the only parade that rides to and through the Mercedes Benz Superdome where the Endymion Extravaganza is held and what a party it is! After the gigantic floats, Endymion continues the tradition of providing the finest entertainment in Mardi Gras. Past performers include Steven Tyler, Rod Stewart Pitbull, Luke Bryan, Carrie Underwood, Kelly Clarkson, Maroon 5 and many, many others! Eleven regional and national bands entertain 20,000+ until 3:30 am!
Endymion rolled for the first time in 1967 and, oh my, how we've grown!
Endymion is one of only three Super Krewes, and with upwards of 3,000 riders, it is by far the largest parade with the largest crowds in Mardi Gras! Endymion features 37 floats. Many are tandem units with up to nine sections, meaning Endymion rolls on over 80 chassis! The motto of the Krewe is "Throw Until it Hurts" and we toss over 15 million throws along the parade route!