Endymion Announces Entertainment for its Mardi Gras Parade in 2024
The Krewe of Endymion announces the entertainment for Mardi Gras's Main Event, The Krewe of Endymion Parade and Extravaganza. The Super Krewe will roll down the streets of New Orleans and into the Ernest N. Morial Convention Center for the mega-party on Saturday, February 10, 2024, featuring performances by 17-time Grammy Award winner Sting, Flo Rida, The Mixed Nuts, Groovy 7, and The Wiseguys, according to Dan Kelly, the captain of Endymion.
Sting first achieved multi-Platinum status as lead singer and bassist of The Police. The iconic, era-defining band earned six Grammy Awards and in 2003, were inducted into The Rock and Roll Hall of Fame. As one of the world's most distinctive solo artists, Sting has received an additional 11 Grammy Awards, along with a Golden Globe, an Emmy and four Oscar nominations. He has sold over 100 million records between The Police and his solo catalog.
Sting, managed by Martin Kierszenbaum / Cherrytree Music Company, has had numerous songs in the top 20 Billboard charts including two number one records, "Every Breath You Take" (which the BMI Awards recently recognized as the Most Performed Song in its repertoire), and "All For Love", recorded with both Rod Stewart and Bryan Adams for the movie, "The Three Musketeers". Other timeless hits from his illustrious career include "Roxanne," "Every Little Thing She Does Is Magic," "Fields of Gold," "Message In A Bottle," "Don't Stand So Close to Me," and "Desert Rose."
Endymion fan favorite, Flo Rida returns to the Extravaganza to ignite the crowd with his catalog of music, including international hits like "Low", "Club Can't Handle Me", "Good Feeling", "Wild Ones", "Whistle", and "My House".
Flo Rida is a Grammy Award winning artist who has had 11 top 10 hits on the Billboard Top 100, including 3 number 1 hits "Whistle", "Right Round", and his 2007 debut single "Low".
With his musical success Flo Rida got back to his roots of giving back by starting "Big Dreams For Kids" a nonprofit foundation that is committed to inspiring future leaders.
The theme of the 2024 Endymion Parade is "Silents Are Golden". Signature floats include Papa Joe's SS Endymion, Club Endymion, The ETV Float, which beams live crowd shots on a gigantic 20' x 9' LED screen, and the largest float in Mardi Gras, at over 300 feet long, the Pontchartrain Beach, "Then and Now" carrying 270 riders.
In addition, the 2024 Endymion parade will be very special to our members and faithful followers, who look forward to the Mid-City parade each year, as we dedicate it to our founder and Captain, the late Ed Muniz. For 57 years he remained the longest-serving Captain in Mardi Gras history. Ed's forward thinking and innovative accomplishments led Endymion to be declared, "Mardi Gras' Main Event."
For more information and to purchase tickets to the Endymion Extravaganza call the Endymion office at (504) 736-0160.
Saturday February 10th @ 4:15
We begin at 4:15 on Orleans Avenue with Samedi Gras which may well be the world's largest block party! More than 40,000 Mid-City residents gather with food, beverages, friends and family to welcome us and help kick off Mardi Gras' Main Event!
Endymion rolls on the Mid City route and features several signature floats.  Our newest float, Club Endymion is a tribute to our home – the Mercedes Benz Superdome. The ETV float beams live crowd shots on a gigantic 20' x 9' LED screen. And Pontchartrain Beach, Then and Now is the largest float in Mardi Gras at over 300 feet long with over 250 riders and nine sections!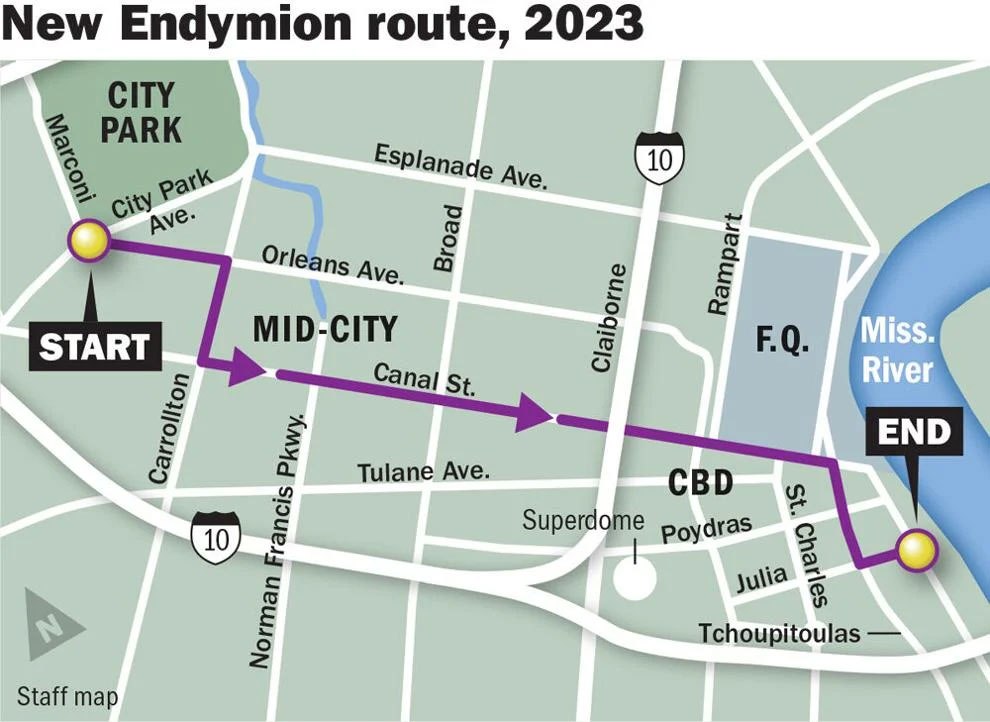 Map courtesy of the New Orleans Advocate/Times Picayune.
Endymion is Mardi Gras' Main Event!
Endymion is the only parade that rides to and through the Mercedes Benz Superdome where the Endymion Extravaganza is held and what a party it is! After the gigantic floats, Endymion continues the tradition of providing the finest entertainment in Mardi Gras. Past performers include Steven Tyler, Rod Stewart Pitbull, Luke Bryan, Carrie Underwood, Kelly Clarkson, Maroon 5 and many, many others! Eleven regional and national bands entertain 20,000+ until 3:30 am!
Endymion rolled for the first time in 1967 and, oh my, how we've grown!
Endymion is one of only three Super Krewes, and with upwards of 3,000 riders, it is by far the largest parade with the largest crowds in Mardi Gras! Endymion features 37 floats. Many are tandem units with up to nine sections, meaning Endymion rolls on over 80 chassis! The motto of the Krewe is "Throw Until it Hurts" and we toss over 15 million throws along the parade route!